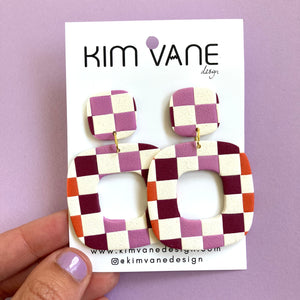 Brechtje Check you out no. 1
These checkerboard earrings are super hip and colorful! Perfect for spicing up any outfit, their surgical stainless steel posts won't cause any allergic reactions, so you can wear 'em all day long! Made of lightweight polymerclay, these earrings will add just the right amount of pizzazz to make you stand out. Checkermate!
Length 6,8 cm
All Kim Vane design earrings are completely handmade by Kim with great attention to detail and quality. Most styles will only have one or just a few pairs available, so you know you will get a truly unique pair of jewelry for your ears. These unique earrings are made from polymer clay. It is such a lightweight material, you will hardly notice you're wearing them, which is great for your ears! Trust me, your lobes will love them. The posts are made from high grade surgical stainless steel, this is perfect if you have sensitive lobes. All earring posts are double secured, so they won't come off and you can enjoy your earrings for a long time! Other parts of these handmade earrings (like the rings and earring backs) are from nickel free metal unless stated otherwise.